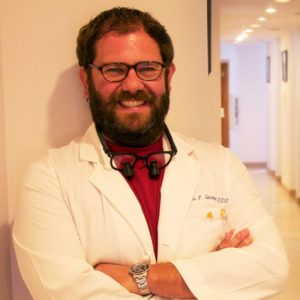 Dr. Nicholas Gardner is a North Country native that has practiced dentistry in Gouverneur since 2005. Growing up in Rossie, Dr. Gardner, starting at age 12, told his family, friends and anyone that would listen about his dreams of becoming a dentist. Nick earned a Bachelors of Science Degree in Biology from Le Moyne College just one month before marrying Jennifer (Hadlock) Gardner in June of 1998.
Dr. Gardner earned his Doctor of Dental Surgery degree from The University of North Carolina at Chapel Hill in May of 2004. Moving back to New York, he completed a one year General Practice Residency at The University of Rochester's Strong Memorial Hospital.
Doctor Gardner is dedicated to improving the health and well being of the patients who have and will choose him as their dentist. He has shown this dedication through a commitment to advance his knowledge by completing the core continuum and still pursuing further training at the prestigious Dawson Academy. The Dawson Academy is comprised of a group of dentists that are committed to helping other dentists gain the skills needed to become a complete dentist.
In January of 2014, Dr. Gardner completed a two year orthodontics training continuum held in Toronto through The Academy of General Practice Orthodontics. This coursework included over 150 class hours and the successful treatment of five patients. After completing this coursework Dr Gardner was asked to host this same educational continuum in his Gouverneur practice. Starting in June of 2014 Dr. Gardner began this next step in his orthodontic training and teaching journey.
Teaching has become a real passion for Dr. Gardner and has deepened his involvement with the Dental Residency Program at SUNY Upstate in Syracuse. Dr. Nick has monthly lecture and clinical responsibilities with the residents at this exceptional teaching hospital.
In June of 2013, Dr. Gardner was awarded Fellowship in The Academy of General Dentistry. To be named a Fellow, a dentist must complete 500 hours of Continuing Education and pass a 250 question exam covering all aspects of dentistry.
In 2017 Dr. Gardner was awarded Study Club Leader of the Year award from The Dawson Academy. Dr. Gardner is recognized as a local leader of complete advanced dentistry.
Living on the land where his father, grandfather, and great-grandfather were raised Nick, Jennifer, their three sons (Kennon, Nolan and Jensen), and daughter (Vivian), enjoy all of nature's splendor and the strong community of friends that are at the heart of North Country living.
Professional Affiliations
American Dental Association
Academy of General Dentistry, Fellow
Dawson Academy, Alumni
Academy of Gp Orthodontics